Do you dread the thought of having to drag your clothes up and down flights of stairs, waiting in line on–or driving out of your way–to do laundry at a local laundromat? Self-service laundry in Baltimore can be an attractive alternative for those seeking more convenience.
If you're considering this time–saving option but don't know where to start, no worries! Our complete guide covers everything from how self-service laundry works, what kind of benefits it offers, pricing information and more—so that you can make an informed decision about whether it's right for you.
How Self-Service Laundry Works?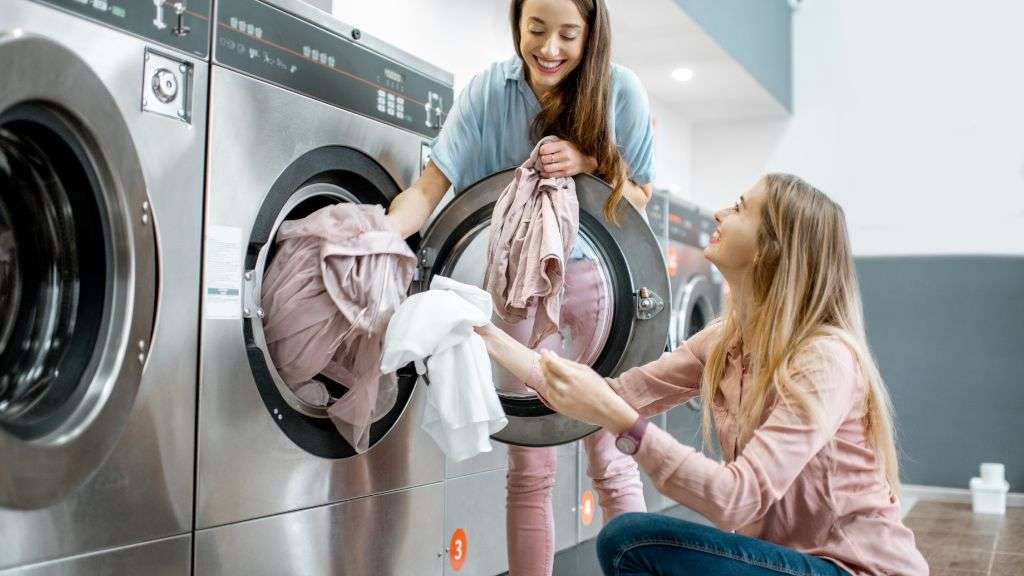 Self-service laundry provides the convenience of washing clothes without the hassle of going to a laundromat or full-service launderer. It works by having you make a selection at a machine and then paying for your load up front. 
Here's how it typically works:
Choose a machine

– When you arrive at the laundromat, you'll need to choose a washing machine and/or dryer that fits your laundry needs. There are typically different sized machines to accommodate different loads and types of clothing.

Load the machine

– Once you've chosen your machine, load it with your dirty clothes and add detergent if necessary.

Insert coins or payment card

– The machine will typically require payment, which can be made with coins or a payment card provided by the laundromat.

Start the machine

– Once payment is made, start the machine and let it run for the appropriate amount of time, usually displayed on the machine.

Transfer to the dryer

– After the washing cycle is complete, transfer your clothes to a dryer and repeat steps 3 and 4.

Fold and go

– Once the drying cycle is complete, retrieve your clothes and fold them. Some laundromats provide folding tables for customers to use.
What Are the Benefits of Self-Service Laundry?
Self-service laundry offers a variety of advantages that many people appreciate. It's significantly more affordable than traditional laundry services, and puts the power in your hands. You can determine exactly when you want to wash and dry your clothing, which allows for more flexibility than a regular laundromat. 
Cost Effective
Going to the laundromat can provide cost savings over sending your clothes out for professional laundering. There are options which offer 24 hours self laundry options in Baltimore at affordable prices and is cheaper than hiring a traditional laundry service, and with the lower prices, you can wash more items for less money. Additionally, you get to control the amount of detergent and fabric softener used, resulting in even more money saved while still maintaining washing quality.
Convenience
Having access to a self-service laundry offers convenience and removes some of the hassles from doing the washing. As you can do the laundry at any time, it allows for more flexibility in completing this chore, giving people the chance to free up their days and use their time more productively. With 24 hours of self- service laundry near you, you can easily do your laundry anytime you want.   It also gives users a choice of machines, allowing them to choose the type that is appropriate for their load size or even pick one that is less busy.
Large Capacity
With bigger machines, you can do more laundry in fewer loads and save time on sorting, loading and unloading—allowing you to get your chores done quickly. Their large-capacity washers have up to twice the space of traditional machines and are capable of washing up to 12 large loads of laundry at once, making it easier than ever to keep your household's clothing looking like new.
Time Saving
These machines offer the convenience of quickly washing, rinsing and drying your laundry with minimum effort and maximum satisfaction. They are great for anyone who is looking for a convenient way to get their clothes clean without having to go through the hassle of using multiple laundry services. The process is made easier with the click of a few buttons, making it an ideal solution for those on the go or who are short on time. 
Self-Service Laundry Pricing
When considering a service of this kind, it's important to investigate the various factors that go into the pricing. Finding a good balance between offering competitive prices and making sure the service is sustainable in the long run will ensure customers have access to quality machines with fair rates. The pricing for self-service laundry can vary depending on several factors. 
Here are some of the pricing factors to consider:
Location

– The location of the self-service laundry can affect the pricing as the cost of rent and utilities can vary in different areas. It is also important to consider the distance of the laundromat from your house. Make sure its not far enough for you to drive just to do the laundry.

Machine size

– The cost of using a machine is often based on the size of the machine. Larger machines typically cost more than smaller machines. Of course if you are going to load larger machines, it means bigger fee,

Machine type

– Some self-service laundries have different types of machines, such as high-efficiency machines or machines with special features. These machines may have a higher cost per use than regular machines.

Water and energy costs

– The cost of water and energy can vary by location and can affect the pricing of self-service laundry. If your area has higher cost for these utilities, expect that you are going to spend more for these services.

Payment method

– Some self-service laundries may offer different payment methods such as coins, cash or card payments, which can affect the cost of using the machines. It is best to inquire about the payment method that they preferred,

Additional services

– Some self-service laundries may offer additional services such as drying, folding, or dry cleaning. These additional services will cost extra.
Get Your Laundry Done on your Own Schedule with Laundry City 
For anyone looking for a great way to get their laundry done on their own schedule, Laundry City's self laundromat in Baltimore is all you need. Our high-tech washers and dryers offer exceptional convenience and make it easier than ever to get the job done quickly and conveniently. Plus, with our online scheduling, customers can access low-cost laundry machines to do their business in minutes with minimal fuss – no waiting or lines necessary. Get your clothes clean and fresh on your own time with LaundryCity!